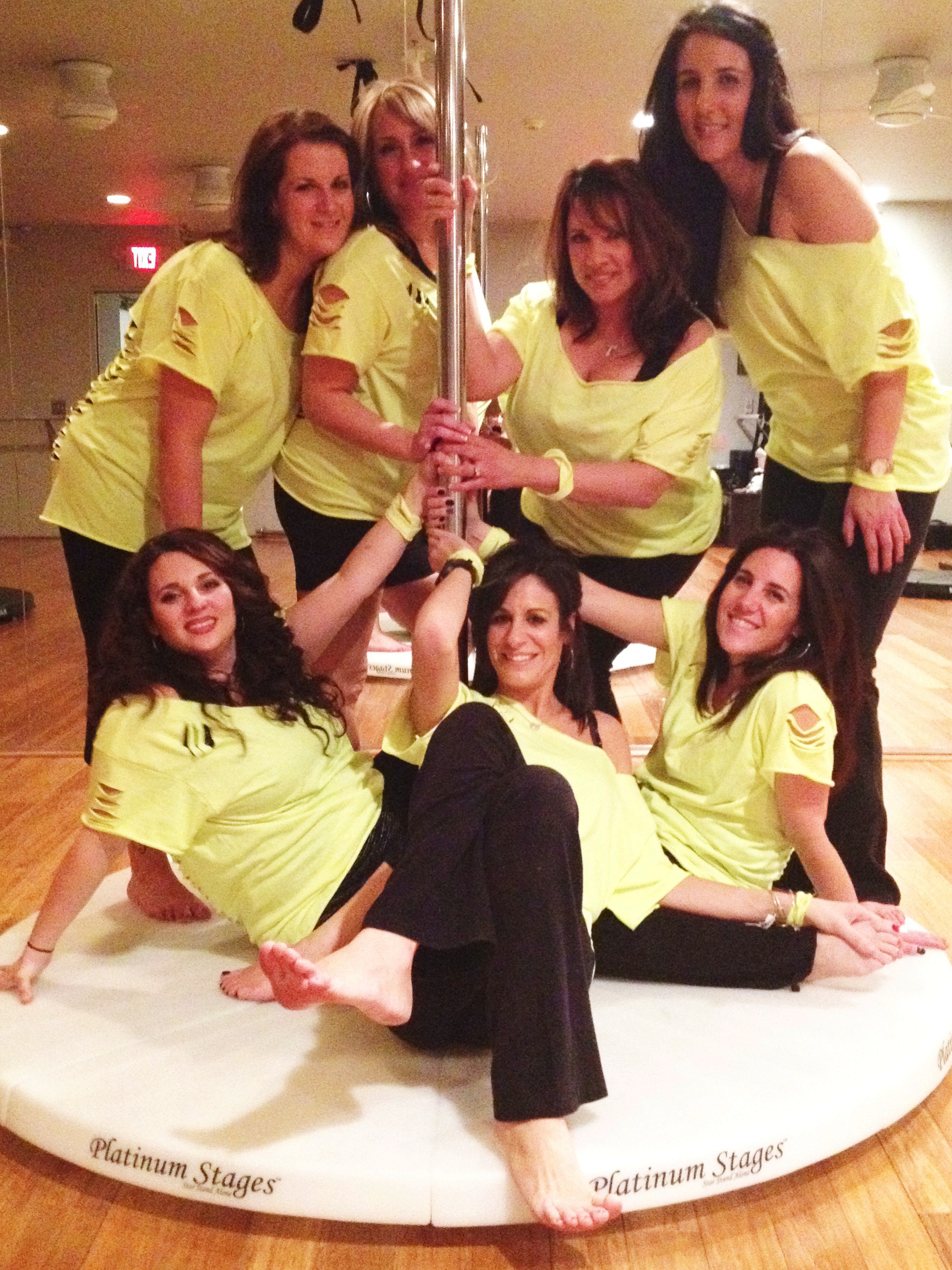 Are you planning your  friend's Bachelorette or Birthday party? Are you looking for something unique & fun  to do with the girls?!
We host the best  Pole Parties and Girl's Night Out!
At our pole parties all girls learn how to shimmy and shake like a pro. Elite instructors teach you how to strut your stuff, spin around the pole and roll your hips, in a fun and supportive environment with your friends.
We offer different party packages, locations and upgrade options to choose from.  
Trendy Locations in New York City or New Jersey 
We will host your party in a trendy loft space with club atmosphere in one of NYC's prime locations or in NJ's most popular towns, Montclair and Livingston. If you prefer to choose your own location we will bring the pole, or chairs if you choose to learn a chair dance routine.
PARTY UPGRADES
Limousine
Start the party with a limousine ride! A complimentary bottle of champagne will be waiting for you on board.
Make-Up Artist
Hire an industry professional make-up artist with skills which are sure to transform all ladies into Divas for a glamorous look.
Professional Photo Shoot
Book a professional photographer to capture the best pole poses and the group. You and your friends will come home with some admirable dance moves and gorgeous photos!
Pole  Art Show
After pole-ing with friends, enjoy an artistic Pole Show à la Cirque du Soleil. See a pole professional perform and make your party a night you will never forget.
Catering
Make the night a catered event. Talk to us about catering options.
Pole Parties Details & Prices 
WHAT YOU SHOULD WEAR?
Yoga cloth for the warm up and booty shorts and a sports top. Have some cute and sexy outfits and your heels handy, if you wish.  Whatever you feel good wearing is welcome at the party. Absolutely no nudity! Please do not apply any body lotion prior to the party. It will make the pole slippery.
ALL POLE PARTIES ARE 90 MINUTES LONG,  WITH THE OPTION TO EXTEND TO 2 HOURS.
PARTIES THAT INCLUDE PHOTO SHOOT AND MAKE-UP ARTIST RUN FOR A MINIMUM OF 2 HOURS.
BASIC BOOKING RATES 90 min. (with option to book 2 hours. Prices incl. 1  instructor)
NEW YORK CITY LOFT LOCATION                   90 MIN         2 HOURS         DEPOSIT
4 to 6 girls                                   –                                $330.00       $385.00            $175.00
7 to 10 girls                                 –                                $435.00       $500.00            $275.00
NEW JERSEY LOCATIONS
Due to a wide variety of locations and options, please talk to us about different prices.
YOUR LOCATION
We travel to your location and bring our poles – provided the space allows a secure pole setup.  We also offer a wide variety of dance (chair and others) which do not require a pole.  Prices on request.
LIMOUSINE
We are happy to book one of NJ's top limo services for you. Prices depend on hours, trip and number of passengers.
Example: Montclair to NYC loft (34th betw. Madison & Park Ave.), 5 hours rental, max. 10 people,
incl. compl. bottle of champagne,  $ 465.00  taxes & fees incl.
PHOTO SHOOT
Book a top photographer to make your event truly unforgettable.
4 to 6  girls,  2 hour, incl. Photo CD & 4 retouched prints f. each girl & 1 free group photo,  $ 550.00
7 to 10 girls, 2 hours, incl. Photo CD & 4 retouched prints f. each girl & 1 free group photo,  $ 850.00
MAKE-UP ARTIST
To get the best out of your glamour photos we encourage you to book a professional make-up artist for a minimum of 2 hours. Please talk to us about options and fees.
POLE ART SHOW
Have a pole professional perform during or after your party. Their jaw-dropping acrobatic pole dancing is sure to impress! One or more performers are available based on your needs. Please talk to us about the prices.
CATERING
Enjoy food and drinks  of  your choice after your dance routine. Talk to us about options.
Deposits are due at the time of booking, the remaining balance will be due at party beginning.
POLICIES
Cancelations or rescheduling need 14 days advance notice, or the deposit will be lost. Tardiness or no shows will be charged the remaining balance to the original card used for the deposit. NO REFUNDS ON FULL CHARGE FOR LATE COMERS OR LATE CANCELATIONS. Lateness to parties will result in a shorter party time.
Anyone under the influence of drugs or alcohol will not be permitted to participate and will not be refunded their money.
BOOKINGS & INQUIRIES – EMAIL: info@poleperfekt.com